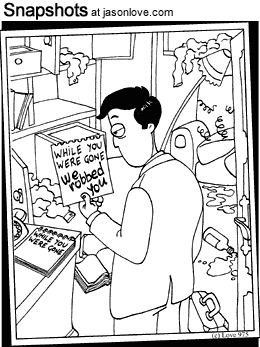 I know there are people who move to the Atlantic City area for a numbers of reasons. I moved down here three years ago after living in New York my whole life.
The first place I lived was not The Landings, but unfortunately I did live there for some time. This post is my warning for anyone considering heading down to the area perhaps to get a job as a dealer or to grind it out in A.C.
DO NOT LIVE IN THE LANDINGS IN ABSECON!
They are nice apartments, modestly priced, which is why I moved there. However, that's when the trouble started. When I moved into The Landings, they weren't even ready for me. The cleaners came while I was in the process of moving even after the complex pushed my move in date back a month. Everything was dirty and wasn't that much better after I moved in.
So, I lived there for a few months and then there was a leak in my bathroom above the shower. I called for it to get fixed, but at least two weeks went by before someone came. They ripped open the ceiling, fixed the leak and then left the hole saying they would come back within the next two days.
Two days turned into THREE MONTHS! It was three months and lots of complaining before someone fixed the hole. By this point it was December and knew I didn't want to live there anymore. Once my lease was up I was moving.
This is where the fun begins. It's about two months before my lease is up and I still haven't received a letter asking if I planned to renew, so I went to the leasing office and told them and they said they would take care of it. I move out.
Almost three months after I left, I realized I still hadn't received my security deposit. I called and called, but got no response. it wasn't until I went down there and pretty much raised hell that anything got done and I got my deposit at the end of August. Only it was a partial deposit. Over $900 was missing for rent for the month of June.
I moved out in May. You see my dilemma. Since then, I have called, visited, called the management company, sent copies of my lease, sent emails and still I have not received my money even though Stacey, the property manager, said I would have it in two weeks after I received the initial deposit.
It's now 2008, I moved out last May and still don't have my money. I am making one last phone call tomorrow to the mysterious Stacey who has seemingly disappeared over the last two months. If I don't talk to her because she has left for the day, not come in yet or she is in a meeting (all excuses I have been given over the last two to three months), my next stop is Atlantic County Court in Atlantic City.
Small Claims Court, here I come.
I have read similar if not worse complaints on rental sites over the Internet. Don't trust me, do the search yourself.
As you can see, this place is a waste. So don't even look there if you plan on moving down here.